2019 Shapeoko 2 Refurbishment
Jump to navigation
Jump to search
General Information
---
Link to 2016 Madness Shapeoko_Repair_Madness_2016
---
Goal 1: Shapeoko 2 Device Refurbishment
Goal 1: Placement of Custom 3D Printed Parts
---
Goal 1: Rewiring
Note: The Spindle Power cable has a modification. The end connector is not common. So, a new connector has be added as a matched pair with screw terminal. The use of screw terminal connectors makes "cutting" of wiring less likely and allows reuse of connectors. The connectors do not require soldering and allow for rewiring without need to "get" new connectors or "solder" lines. A lot of wiring repairs have inline splices that cause later difficulties. The screw terminals would allow entire wiring replacement.
Goal 1: Completion
Front
Right
Rear
Left
Goal 2: Controller System
---
Goal 2: Controller Description
---
Goal 2: Controller Box
Controller Box Assembled
Controller Box Disassembled
Goal 2: Front Panel Build
Goal 2: Rear Panel Build
Goal 2: Electronics
Three Boards - Arduino Uno, Arduino Prototyping Shield, CNC Shield V3.0
Notes: The Arduino has its power jack removed. The Arduino is powered thru the USB. The circuitry on the Prototyping Shield added noise filtering and debounce protection to the Limit Switch Lines and Control Buttons on the E-Stop pendant. The circuitry in the photo was modified according to the schematic below to improve debounce behavior.
The electronic were assembled in the stack below.
Goal 2: Controller Box Assembly
The electronic, wiring and cooling fans were organized and supported by custom 3D printed parts.
Overall Controller Box Contents
Assembled Controller Box Contents

GRBL Controller Assembled and Labelled
Goal 2: E-Stop pendant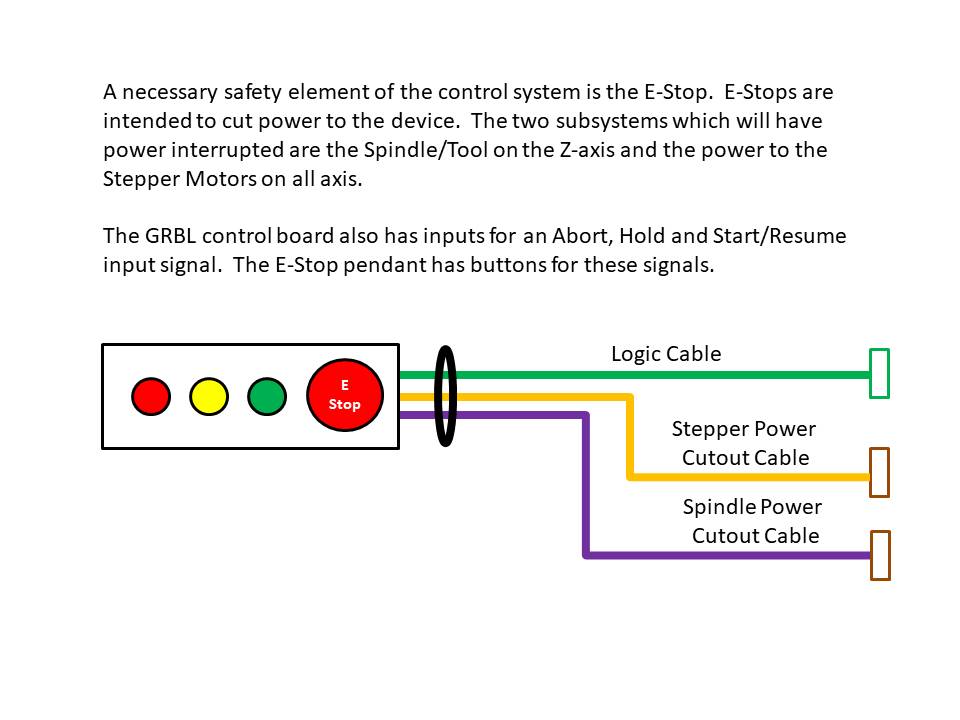 Actual E-Stop pendant
Goal 2: Power Box
Example of an isolated power wiring harness
Power Box with two power wiring harnesses and control button connector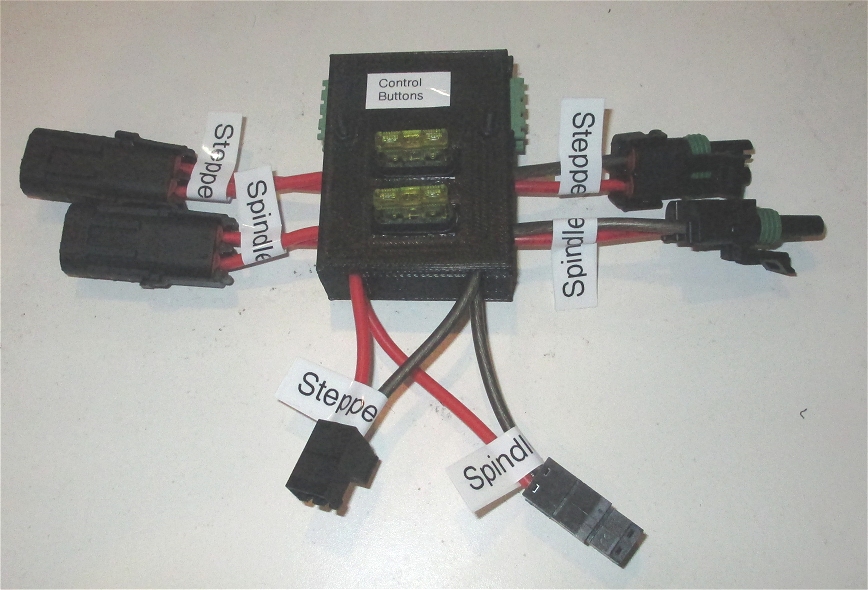 General Layout of Refurbished Shapeoko 2 and GRBL Controller
Actual Layout
General Notes: